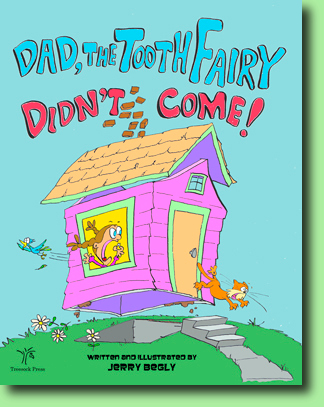 The Tooth Fairy missed a delivery! To make matters worse, the family is growing, teeth are falling out at an alarming rate, and the Tooth Fairy can't seem to keep up! What's going to happen? Who can possibly fix this mess?
In "Dad, the Tooth Fairy Didn't Come!", author/cartoonist Jerry Begly captures the perfect "Oh no!" moment all parents face. When our hero steps in to save the day, the family's life spirals off into "Tooth Fairy absurdity." Hang on to your toothbrushes as we uncover a tale of mystery, intrigue, and tie-on Tooth Fairy wings.
"Dad, the Tooth Fairy Didn't Come!" is destined to be THE guide for parents experiencing tooth-for-money problems. Keep it handy.
This book belongs on the shelf of anyone who does business with the Tooth Fairy.
Order a copy for yourself, or for that little one in your life.

View Samples From the Book
OR
Order By Mail:
To Order "Dad, the Tooth Fairy Didn't Come!" by Mail:
Fill out the order form and send it, with a check or money order, to the address on the form.
To view the order form, you need Adobe Reader.
(C) 2010 Jerry Begly, All Rights Reserved